My latest interview is with someone who works as an Events Project Manager by day, suited and booted as a business person – but as a Professional Muay Thai fighter on the international stage, this lady is absolutely ferocious and rapidly becoming a combat sensation. Meet Nicola Kaye…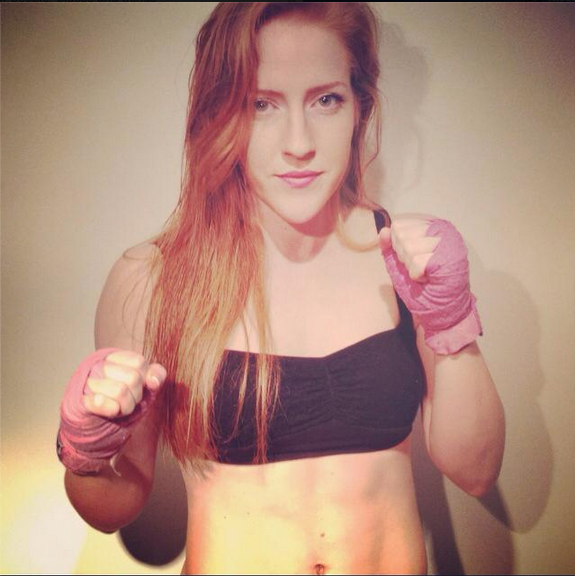 Name:Nicola Kaye
Age:26
Town: Originally from Newcastle upon Tyne but been living in Leeds for 8 years now.
Occupation: Events Project Manager
Martial Arts Style: Muay Thai
Grades and Accomplishments: 11 Professional Muay Thai Fights, undefeated, ISKA British Title, ISKA European Title
How old where you when you first took up martial arts and what was your initial motivation?
I was 22 when I started Muay Thai. I went along to a class with a friend, having never heard of it.
I was always into keeping fit. Once I did it, I loved it. Naturally I have quite a strong punch and I felt like I was getting stronger after every class. As soon as I saw myself improve this kept motivating me as I couldn't even throw a kick at all. I watched videos on girls fighting. I used to watch videos of Julie kitchen she was big at the time and I wanted to have the opportunity to fight. If other women could…. I could.
Tell us about the highs and lows of your journey including times you may have felt like quitting (if ever) – what you did to overcome that type of negative thinking.
I never really feel like quitting but I've noticed the last few fights mentally it's been harder and more pressure, simply because I'm fighting on big shows now with 1000's of spectators – so it's more the pressure I put on myself and mentally it's draining; and it also effects my training and I don't feel I'm doing enough personally; it's never enough.
This negative thinking leads me to think "what if I don't win" and "I'm not good enough." Luckily these thoughts seem to disappear during fight week when I'm concentrating on losing my weight then all I care about is chocolate cake. The last week I come to just accept that I've done all I can and I just start to believe in myself more. It's a strange cycle.
What do you think martial arts training brings to your personal life generally and also to your work life?
Martial Arts has almost defined me in a way now. It's a whole double life around work.
First of all, it gives me confidence to know I can look after myself and I have an advantage over others.
The most important aspect it's given me is the belief that I can do whatever I put my mind into and that is something so many people lack. I found it through training and winning. This has come into play during my work projects because when I have an event and it seems there is so much to do on the planning/organizing side and on top I have to manage my own sales to make sure I reach a target…. at the time, it seems impossible but then my determination head kicks and I start to tackle it. It all works out in the end. Muay Thai also gives me freedom, because I know I can be good at most things if I apply my mind to it and with practice and consistency.
What mental and spiritual principles have you developed from your martial arts training? Do you think martial arts gave you those or did you bring them with you into your martial arts training?
Mentally, I am calmer. I have always had a hot, aggressive temper and since being disciplined in Muay Thai I just don't have that temper anymore. Spiritually, I have always been open to it. Muay Thai is a very spiritual sport, with it being the national sport of Thailand they have a prominent belief in the spirit world, and they incorporate this during the fights. Traditionally before the fight the fighter seals the ring, and does a 'wai kru' dance routine. This gets rid of any bad spirits in the ring and also asks the spirits for protection. Trainers will recite in Thai verses to ask for protection for you.
Do you practice any form of mindfulness/meditation practice? If so, can you tell us more about that?
I don't practice any meditation but Muay Thai absolutely helps with mindfulness, simply because at training I am not focused on anything else apart from training, so even if I had a stressful day at work, none of it matters as I am focused on training and nothing else. It's a great way for me to de-stress and I finish my day after the gym feeling more relaxed and able to sleep well.
Where do you see your martial arts career going and what are your plans for the future?
I am currently working towards a World Title belt in Muay Thai. I would like to fight abroad more. I would also like to become no. 1 in the UK as I am currently ranked no 2. I would like to gain a purple belt in Brazilian Ju Jitsu and then I would like to go fight MMA on some of the top shows in the world. (CSoN – I am confident you will succeed in all your goals)
What was your greatest moment as a martial artist? Tell us the story and the context that made it so special?
When I won my European Title belt and I went straight to hug my dad who had tears in his eyes, he is normally a 'tough guy' but that was an emotional moment to see him so proud. He is my no 1 fan and he comes to every fight.
Tell us about any major events in your personal or business life where your martial arts training really made the difference – not in the sense of defending yourself physically but in regard to your character and how you engage with challenges.
A very personal thing which I have never really spoken out about, but I feel Muay Thai made a significant difference from, was when I lived in Thailand. I was in a very violent and emotionally abusive relationship. People may think I could look after myself but it's very difficult, when you love someone, to fight back. Although I was sometimes stopped from training I used to manage to keep it up some days and I could find myself again and talk to people and be in a normal environment.
I was very isolated and had my passport ripped up along with my bank card so it was extremely difficult to be independent and I was too ashamed to tell my parents what was happening. The only time I could find myself was through – when I got the chance to go – training, and I realized that I wasn't achieving my goals and I had to find a way to get out of the situation I was in, if I was ever going to achieve anything. It was the most difficult time of my life but I managed to get away and turn things around; within 4 difficult months I was back in the UK, landed a good job and got fights lined up to keep myself focused during a very turbulent time.
Muay Thai kept me sane during that time. It gave me a purpose when I felt I didn't have one. It was something I was good at and nobody could take it away from me. Now, because of what I've experienced, in and out of the ring, I know I can handle anything and whatever I want to do I can do it. I also have a lot more understanding of toxic and abusive people. Being a very strong minded character I never thought it would happen to me. If it wasn't for Muay Thai maybe I wouldn't have had the courage or purpose to leave and I know there are lots of women in the world who are trapped. One day I hope to offer support to women who are/have experienced domestic violence through teaching Thai Boxing.
Thanks very much
I am really grateful to Nicola for the interview. I am sure that she is going to continue making a massive impact on the Muay Thai international circuit and has a great future in whatever she sets her mind to. Thanks very much, Nicola